Alberta's New Energy Efficiency Regulations
Home Buying Tips

Home Owner Tips

Wednesday, December 7, 2016
The Government of Alberta has adopted the National Energy Code for Buildings (NECB) 2011 edition, to support Alberta's Climate Change Strategy. As of November 1st, these new guidelines on energy efficiency will require buildings and homes across the country to comply with the new Energy Efficiency Standards – specifically pertaining to the following components: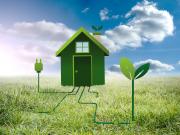 Building Envelope
This is the separation between the interior and the exterior environments of a building, comprising of its exterior walls, roof, foundation and slab-on-ground.
Lighting
This includes interior and exterior lighting components and systems connected to the buildings electrical service.
HVAC
This consists of heating, ventilating and air-conditioning covers items such as ducting and piping, controls, ventilation and related equipment.
Service Water Heating
This concerned with systems used for the supply of water for purposes other than space heating.
"These changes to the building code ensure that the amount of energy used by homeowners and businesses will be permanently reduced and the savings will continue into the future"
– MINISTER OF ENVIRONMENT SHANNON PHILLIPS
What do these new regulations mean for you and how can they be beneficial for your home?
Better air quality from improved HVAC and ventilation
Reduced heat loss from increased insulation (windows sealed tighter to increase insulation)
Money saved from lower energy bills
Increased resale value for your home, as energy efficient buildings typically have longer lifespans and lower maintenance fees
Reduces your greenhouse gas emissions, which contributes to a healthier planet!
*Insider tip: Another way for you to reduce energy consumption is through the MyHeat tool – an incredibly useful method to track heat loss in your home! More information here.
– Rand Al-Hashmy, Marketing