Everything's Coming Up Rose Gold
Decor & Design

Monday, April 18, 2016
Our friend Alex is back with some more tips, straight from the Design Centre! Every once in a while I shoot her an email asking whatÔÇÖs cool and new, and this time she answered within minutes: rose gold.
ÔÇ£WeÔÇÖre using rose gold statement lighting and accents in our new Midtown showhomes!ÔÇØ she said. ÔÇ£Oooh, how exciting!ÔÇØ I said, and immediately began my research.
When employed by jewelers, the term ÔÇ£rose goldÔÇØ refers to an alloy of gold to which copper has been added. In appearance, rose gold is warm and flushÔÇöwhat yellow gold would look like if it suddenly suffered an embarrassment. Historically, rose gold first became fashionable in Russia during the 19th century, and its popularity has waxed and waned since then, but now, rose gold is making a comeback in a very big way.
Take a look around and youÔÇÖll see rose gold appearing everywhere, in everything from jewellery and watches, to hair and clothing, to iPhones and, of course, interior design. Other metallic finishes have had their moment under the sun, but the versatile, gender neutral coppery tone of rose gold, which compliments both masculine and feminine decor and colour choices, will be sure to stand the test of time.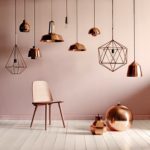 What do you think about the rose gold trend? I rather like it, and canÔÇÖt wait to see the new Midtown showhomes coming up in June!
– Heather Dietrich, Marketing