Our Story
In 1982, Wayne Chiu immigrated to Calgary from Hong Kong to start his career and build a new life for his family. He completed his education as a Mechanical Engineer and his certification as a Master Home Builder, and quickly established himself as a professional in the development and building community in Calgary.
Wayne and his small team started out providing general contracting services for new builds and renovations primarily for smaller commercial buildings and multi-family developments. His projects ranged from gas stations, retail stores, strip malls, a senior centre, low and mid-rise residential buildings and townhome developments. Early on, Wayne also participated in joint venture partnerships where he was responsible for overseeing financing and sales for residential developments.
In 1992, he founded Trico Homes, with a commitment to be a different kind of homebuilding company. Conscious about creating the best places to live, Wayne also believed that businesses had a responsibility to be caring corporate citizens with the power to bring positive change to their communities.
In the many years since Trico built its first home, the company has evolved and grown into one of Calgary's top home builders and now proudly builds in Airdrie, Chestermere, Cochrane and Okotoks as well. To date, the Trico Homes team has built over 11,500 quality single and multi-family homes, and have earned a reputation for their design, craftsmanship and customer care.
In 2016, Wayne started Trico Communities to build, own and operate purpose-built rental and commercial properties that enrich the lives of its residents and the greater community. That same year, the Communities team broke ground on the Delaney, a 44-unit purpose-built rental in the established community of Mount Pleasant. This inaugural inclusive development was very unique as it introduced a mix of commercial, market, below market and barrier free accessible home choices.
Trico Communities looks forward to pursuing new opportunities to build quality, inclusive communities in some of Calgary's very best locations. We are committed to be an industry leader and to create a lasting legacy to help make our city a better place to live.

THE TRICO COMMUNITIES TEAM
Our team bridges the gap between the "Art" of homebuilding and the "Heart" of homebuilding. With a focus on customer care, and a history of community and charitable support, the Trico team consistently demonstrates a degree of professionalism, dedication and passion which distinguishes us from the crowd.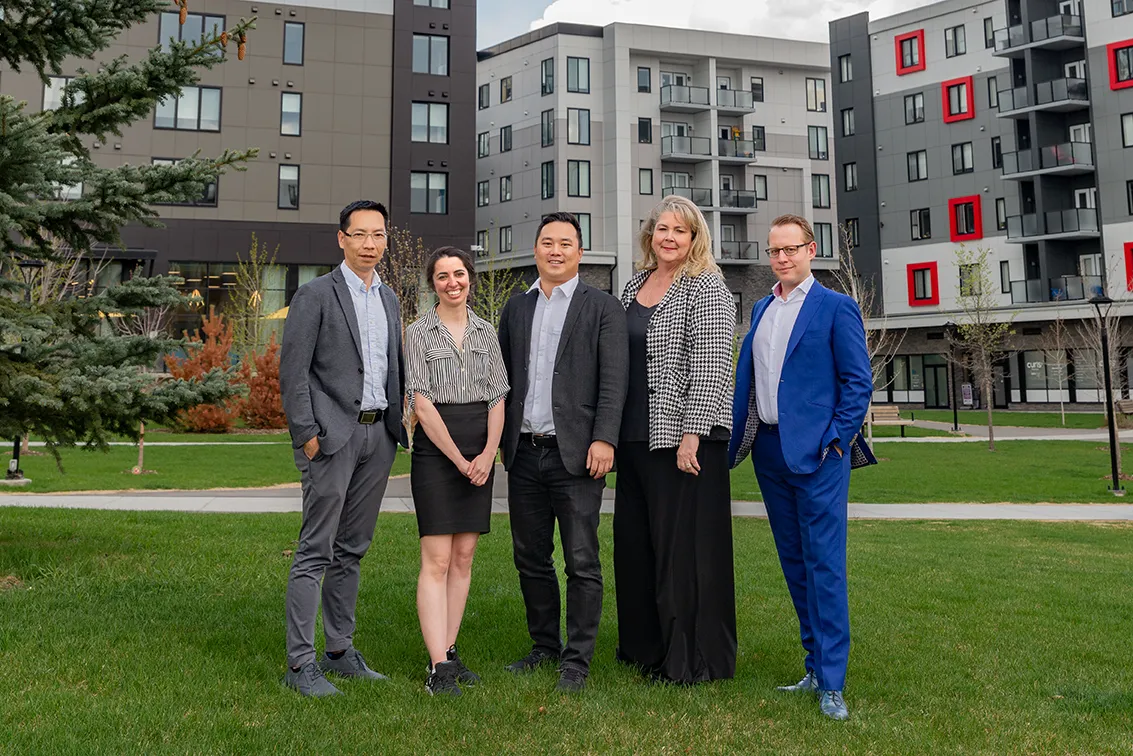 Left to Right:
Khanh Giang, Alexandra Daignault, Patrick Chiu, Tara Bissell, Stephen Pariser